Nariku Story
Founded by Susan Deslaurier, Nariku Travel Experiences is the evolution of her travel experiences and her commitment to bridging cultures.

The name "Nariku" was given to Susan by the Maasai elders and medicine people she came to know in Kenya. "Nariku" means a person who goes forth in advance of others to see what is there, and then returns to lead them to good things. It is Susan's hope to do this by sharing travels and experiences around the world.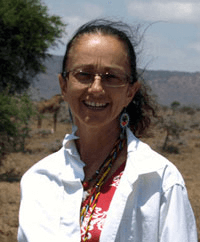 Susan Deslaurier
Nariku Travel Experiences Owner and Travel Consultant
Susan traveled to more than a dozen countries before her heart was captured by East Africa. She first visited Kenya and Tanzania in January, 2007 as a board member of Asante Africa Foundation. Through her work with the Foundation she lived and worked alongside the people of Kenya and Tanzania during yearly visits. Her many visits gave her the opportunity to learn about local culture, challenges faced by the community, and the vision of the future held by local leaders. Her friendships deepened with members of the Maasai community of Maji Moto, where she returned often for personal retreat and exploration of the spiritual, cultural, and natural surroundings.
In 2008, Susan and Maasai Chief Salaton Ole Ntutu collaborated on a plan to bridge the cultural divide between the United States and Africa by sharing the spirit and nature of Kenya and the Maasai with travelers. Along with their local and international team members, they knew their plan would help visitors reignite the connection all people have to their ancestors and the Earth. Salaton was already established as a camp owner and tour leader in Kenya, and Susan founded her US based tour business on a vision of tours to the area that would include exposure to Maasai ceremonies, daily life, and stories of Maasai people. Tours included exploration of the amazing game reserves along with with lodging in luxury tented camps known to make positive contributions to the environment and community programs, and to provide respectful employment opportunities for local people.
Susan left her corporate job as consultant and executive coach in the health care industry to pursue her dream of contributing to the peace and health of the world through cultural exchange.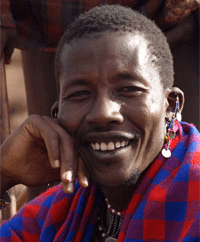 Salaton Ole Ntutu
Maji Moto Maasai Cultural Camp Owner and Kenya Business Partner
Born and raised in the heart of the African Savanna, Salaton is a community chief, shaman, and warrior of the Maasai tribe.
A tradition practiced by the Maasai for centuries, Salaton left his family at age 14 to begin "warriorship." This meant surviving in the African bush for more than 7 years with nothing but his blanket and spear. He faced wild animals and was at times forced to kill lions, leopards, and buffalo with just a knife and spear. Salaton relied on survival skills he learned as a young boy, including an understanding of the natural world that is largely absent in the western world.
As a child, Salaton was chosen to receive the spiritual knowledge of his ancestors. He was blessed with spiritual and energetic gifts which enable him to experience strong connections with people and nature. He uses his gifts for communication, healing, and protection of others and carries on the medicine work of his late mother, a renowned medicine woman, midwife, and shamanic healer.
Today in his village of Maji Moto, Salaton is an elder and key partner to international nonprofit organizations supporting the Narok region. He is recognized for his courage and wisdom. He has been advisor to international organizations that support the creation of schools, student scholarships, programs to end female circumcision and early marriage, protection of widows, and environmental and health projects.
Salaton's passion in life is to preserve his community's culture and environment and the goals of his tourism business are to provide jobs and job training to local people, and to make donations to support community projects.
Learn more about Salaton's Maji Moto Maasai Cultural Camp.
Community Connections
Supporting the communities we visit is at the core mission of Nariku Travel Experiences. We partner with community organizations to share 5% of every tour cost, introduce potential donors and supporters to projects in need, and bring volunteers in for specific purposes.

Maji Moto Community
Maji Moto Maasai Cultural Camp, provides job training, employment, and community.
Learn more at: www.majimotomaasaicamp.com
Medungi Conservation organization plays a leading role in rallying and supporting local people to adopt lifestyles that are friendly to the environment and engage in development and economic activities that secure their livelihoods while minimizing impacts to the environment.
Projects include a botanical conservancy, Maasai Culture Preservation, environment and wildlife conservation. In addition, they support local communities' livelihoods and sustainable development, including the development of a local clinic specializing in maternal and child health. Learn more at: www.medungi.org

Enkiteng Lepa Community Based Organization
The Maji Moto Widow's Village is created for the protection and empowerment of women who are widowed, living with AIDS, or rescued from early marriage. Their projects include beaded jewelry sales and beekeeping for the sale and personal use of honey.
The Enkiteng Lepa Primary School incorporates Maasai culture in an exceptional learning environment, with scholarships for vulnerable kids. Volunteers and donors support the school's academic success by providing construction funds, scholarships, learning materials and classroom instruction.

Kibera and Kisumu Areas
Matibabu Foundation, Kenya is working toward empowered, productive, and prosperous communities in the Ugenya district of Western Kenya. Matibabu manages a full spectrum of preventive, outpatient, and community health care services.
The Mary Ann van Dam School of Nursing is another initiative of the Matibabu Foundation, providing training that is sensitive to the health care needs of the community and training needs of health care professionals.
Nariku Travel Volunteers spend time with Dan Ogola in Ugenya clinic and nursing school, as well as in the clinics of the Kibera slums in Nairobi. Learn more at: www.tibafoundation.org/matibabu